The Mighty Boosh star on the extraordinary powers of a cup of tea.
The Observer, Sunday 19 September 2010.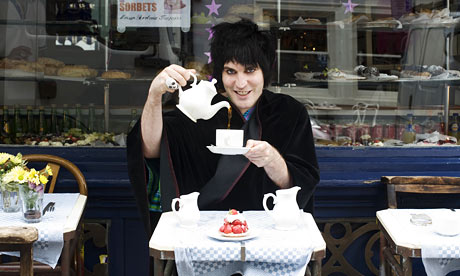 If my dinner was really hot I'd put my fork up to my eye and look at my little brother through the steam coming off the food. He'd say: "Mum, he's looking at me through his fork again." It sent him insane.
I once went, with my dad, to have afternoon tea for my birthday at the house where Rudyard Kipling finished The Jungle Book. Wonderful.
When I was at art college a can of Spray Mount adhesive cost £12 – £2 more than my weekly food bill.
I like how food can look incredible more than I like eating it. I started moving food around the plate to make it appear I'd eaten more, but then enjoyed making faces on the plate – peas for eyebrows, Yorkshire puddings for eyes. … read more »